09/18/2017 - Product Release: 1994-1996 LT1/LT4 C4 Corvette LS PCM Conversion
Available Now!
ACCEPTING SALES NOW. LAUNCH DISCOUNT​Order now and save for limited time only!!

​
Torqhead LTD is pleased to announce the release of our 94-96 LT1/LT4 C4 Corvette LS PCM conversion kits. We have listened to popular demand, stepped up to the challenge and spent countless hours to deliver an incredibly high quality conversion kit for your 94-96 LT1/LT4 powered C4 Corvette.
24x LS Gen III PCM
LS PCM delivers performance, tuning access and large industry support
Coil per Plug performance and reliability. Optispark 100% deleted.
Seamless integration delivers factory functionality of all gauges
Effortless Plug and Play
1994, 1995 & 1996+ 4L60E Compatible
C4 kits are based on our incredibly successful LT1 F/B Body platform kits, but with added technology for seamless integration with factory systems found only on C4's. Even the PCM mounts directly in factory location!!
Please Note: Not yet available for 1992-1993 LT1 C4 Corvettes

08/12/2016 - Product Update: Intake Manifold Coil Bracket + Fuel Rail Covers
Available Now!
TH is working a new spin on coil bracket mounting that puts the often empty space on top of stock intake manifold to better use. Subtle LT1 design cues have been incorporated to combine a new look with the old.

This design provides easy fitment, function and a clean look to your engine bay. When combined with our new LT1 fuel rail covers you also can get spark plug wires that come completely pre-made. Easy access to oil fill and valve train is also achieved as the valve covers remain coil free.

With all the different setups out there (Direct Port Nitrous, Single plane manifolds, etc) this new coil bracket design will of course not work for all....that is where our valve cover mounted coil brackets will still come into play.

This new intake coil bracket is 2 3/8" in maximum height to allow fitment on F-Body applications and of course plenty of room on B-Body and Y-Body.

Custom colors can be accommodated upon request. Standard offering will be a black powder coat that is smudge resistant.

Price for the intake coil bracket will be the same as current valve cover coil bracket offering. Fuel rail cover pricing TBD (est. $165-$185/pr). Fuel rail covers will also be offered as separate purchasable item without spark plug wire holes.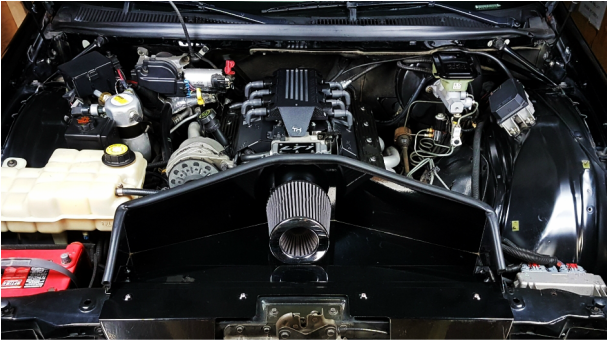 07/2016 - Tech Update: 4L60E 94/95 Compatibility
Available Now!!

Using a 24x LS G3 PCM and ignition system with a 1994 or 1995 LT1 4L60E car usually meant you had to go into the transmission and swap out components to convert the 4L60E to 1996+ specs. This often brought added confusion, labor and part cost to the LS PCM conversion for 1994/1995 LT auto vehicles. Worse yet, if you did not change these components correctly (year matching parts) you ran the risk of damaging your 4L60E transmission.

Well the days of having to modify your 94/95 4L60E transmission to use the LS G3 PCM are over!!

Our TH LS G3 PCM is not only plug and play with your existing 94-97 engine harness, making installation effortless and quick, it now controls 1994 and 1995 transmissions. We have added some new tech so that the PCM controls the transmissions just like a 1994 or 1995 transmission are intended to be controlled. Simplifying the installation to save you time and money.
​
Since the internal parts of your 1994 or 1995 transmission are not changing and the internals parts are "year correct" to work with each other there is no risk of damage. Our PCM simply controls these transmissions the way their electronics expect to be controlled and the hardware of the transmission does what it is supposed to do... get the power to the ground